To acquire 3 Acres Land in Prosper.
Your generous monetary support will play a key role in making this dream a reality.
Temple Programs


NTHS Temple Timings
Everyday - Morning:
10.00 AM - 01.00 PM
Everyday - Evening:
06.00 PM - 09.00 PM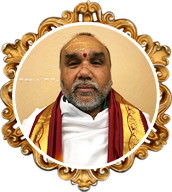 Veda Pandit
Sri Samba Siva Sharma Chintapalli
Aarathi Schedules
Kakada Aarthi:
06.30 AM - 08.00 AM (Sat & Sun)
Madhyana Aarthi:
12.00 Noon (Thu, Sat & Sun)
Doop Aarthi:
06.30 PM (All Days)
Shej Aarthi:
08.00 PM (All Days)
Veda Pandit
Sri Samba Siva Sharma Chintapalli
Our Vision
To expand and build a larger temple in the Dallas-Fort Worth metroplex and to facilitate worship and services similar toShridi Sai Baba Temple, Shirdi, Maharastra, India.
Our Mission
To provide a place of worship for the devotees of Sri Shirdi Sai Baba.To support religious, cultural, educational or charitable activities or organizations in the United States or around the world.
New Temple Construction Updates
Shree Balaji Mandir… the temple of Lord Venkateshwara, where blessings of the divine, commence a spiritual journey of one's soul! This house of worship is established and managed by Shree Balaji Foundation [A registered Charitable Public Trust].
$50K
$100K
$150K
$200K
$250K
$300K