To acquire 3 Acres Land in Prosper.
Your generous monetary support will play a key role in making this dream a reality.
Temple Programs


NTHS Temple Timings
Everyday - Morning:
10.00 AM - 01.00 PM
Everyday - Evening:
06.00 PM - 09.00 PM
Saturday:
10:00 AM - 9:00 PM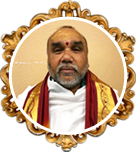 Veda Pandit
Sri Samba Siva Sharma Chintapalli
Aarathi Schedules
Kakada Aarthi:
06.30 AM - 08.00 AM (Sat & Sun)
Madhyana Aarthi:
12.00 Noon (Thu, Sat & Sun)
Doop Aarthi:
06.30 PM (All Days)
Shej Aarthi:
08.00 PM (All Days)
New Temple Construction Updates
Shree Balaji Mandir… the temple of Lord Venkateshwara, where blessings of the divine, commence a spiritual journey of one's soul! This house of worship is established and managed by Shree Balaji Foundation [A registered Charitable Public Trust].
$50K
$100K
$150K
$200K
$250K
$300K